The intent behind nearly any tactic you might use in a digital marketing campaign is to drive web traffic. For lead-gen and conversion purposes, those email blasts and targeted social media ads probably include a link directing people to a campaign-specific landing page on your website. Advisors use landing pages for a variety of reasons – seminars registration, downloadable content offers (whitepapers, fact sheets, etc.), or consultation requests. Whatever the reason, the ultimate goal here is conversion.
However, no matter how successful those emails and ads are at driving people to your landing page, it's often the page itself that will determine whether you've added a new name to your list of potential clients. In other words, a bad landing page can drive consumers away just as quickly as they arrived.
While there is no secret recipe for the perfect landing page, implementing the following practices can significantly boost your chances of turning a click into a conversion. We will draw from one of our most recent landing pages to illustrate.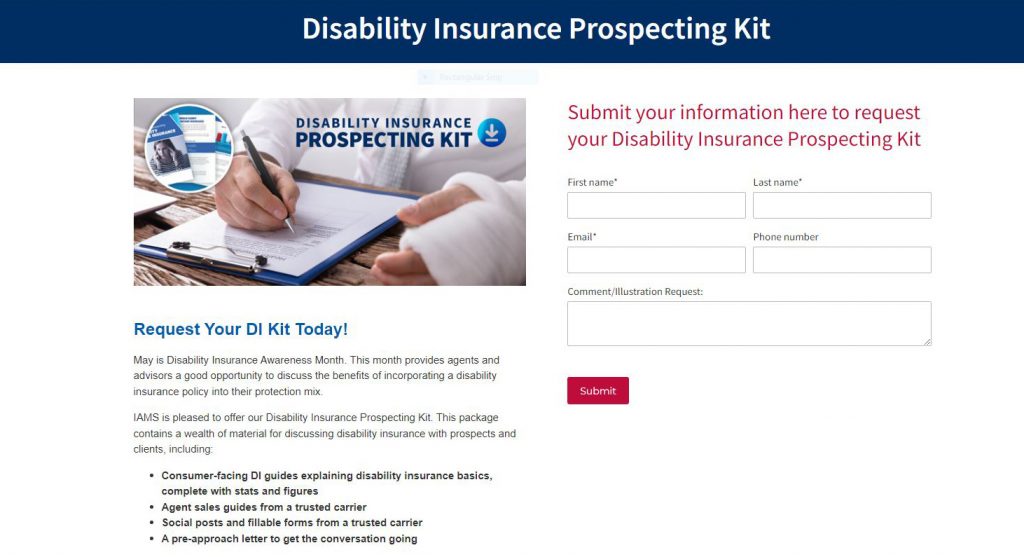 Copy
Like any other piece of content you put out there, the copy on your landing page needs to be concise, clear, and free of any grammatical errors and typos. Use strong and compelling headlines to catch and keep their attention. And always have a fresh set of eyes to check for errors you might have missed.
Avoid using too much (or any if possible) jargon and technical terms. This sort of language can easily go over a consumer's head and bring more questions than answers. Your audience shouldn't have to read your copy more than once to get a clear idea about the offer.
The copy on your landing page should be consistent with the copy used in your ad/email. Inconsistent messages can make people skeptical of your offer.
Submission Form
Your landing page will likely have a form that requires visitors to submit personal information. At a bare minimum, these forms typically ask for your name, email, phone number, and the best time of day to call. Because people are often hesitant to share too many personal details, requiring more than the basics might be a deal-breaker. While the average number of fields on a form is 11, cutting that down to 4 can boost conversion by as much as 120%.
Some advisors might want to weed out any unqualified leads by including fields that require additional information, such as age and income ranges. Use your own judgment here, but keep in mind that you might lose a good lead by asking them to submit information online that could easily be discussed during a follow-up phone call.
CTA
Keep your call to action simple, strong, and easy to locate. The copy on your CTA should be as or more compelling than your headlines. Oftentimes, people who read a strong headline are more likely to check out the CTA.
Design is also an important factor in your CTA. It should stand out from the rest of the page, look professional, and be placed below the fold.
You can also increase the clicks on your CTA by keeping any secondary links that might direct visitors away from the page to a minimum. In fact, removing the navigation bar can boost conversion by 100%.
Video
Video on a landing page can increase conversion rates by as much as 86%. Keep your video short, and simple, and use it to expand upon your message. Consumers are more likely to watch a 1 -2-minute video than they are to read a 1 -2-paragraph block of text. This can also help associate your face with your brand and make you seem more trustworthy.
The video should be placed above the fold (near the top of the landing page) and embedded on the page itself. If clicking your video redirects the visitor to your YouTube channel, they will be less likely to come back and fill out your form.
Call The Pros
Building an effective landing page takes time, and you have a business to run. This is where the IAMS Creative Team can help. We offer custom websites and landing pages to our agents. These websites are molded to each individual advisor and feature the following:
WordPress-Based Templates
Responsive Design
SEO Optimization
Free SSL Certificates
Google Analytics Integration
For more on how the IAMS Creative Team can help grow your business, visit www.iamscreative.com.